Open Source Publishing practice
A practice that use only open source software tools
We release all the work under a free and open license
Because we think culture should be open
Because culture is and has to be multiple
Research ad hoc
Research in the mist where errors and glitches are welcomed with the same joy as efficiency and during social events
Coding not to automatize nor technical master strokes, but as reflexive modus operandi integrated in the creation process
Exchange between machine and designers that expose what could not be planned : the indeterminate
Research that accept awkward positions and a certain degree of control loss, where astonishment has more change to occur
If unexpected result, using it to try to reproduce it in another way, to another level of consciousness
Minsky
Marvin Minsky, 1960, at MIT
Confusion between y and y' that lead to the display of the first circle on a computer screen
Using it to develop a full program of visual display, MinskyTron
Hackers positionning themselves again the bait of the unified technical environment
Hackers promoting the reversibility of technical objects, transgressive usages and modularity
Writing - typography
Lettering : shape of the letter as a negotiation between tool (the pen), medium (the paper), and recipe (movement)
Lettering : shape being informed by context
Typography : shape as a single object, carved like a statue
Typography : shape as an aesthetic negotiation between chisel and wood (informed by writing)
Baked typography
Techniques for a more perfect, more singular shape
Digital typography : the font as a single object designed by the master-type-designer
Once designed, ever copied, never changed or detiorated.
Shape modified
by reproduction
Reproduction technologies influenced a font's shape?
Small changes : mistake or more on purpose, informed by personal preference or contemporary taste?
Paradoxically mainstream contemporary font-techniques allow for alternative characters (often inscript fonts)
Shapes to become dynamic (OpenType Variable Fonts)
Multiplicity as method in our practice
Ways to question the object and it's maker
Ways to question the font, and it's designer, as a perfect, singular entity
Using real-life commissions to live but also to enlarge and challenge the research
Fueled by feminist and queer questions around multiplicity
Univers Else : traces of the IBM Selectric (partly nostalgically) on Frutiger's Univers
Crickx : digitization of a malled and negotiated font between father, daughters and clients
Multiple truth
We do not believe in a single truth, once defined, ever copied, never questioned
That is why we release our work under an open license
To allow others to reinterpret our work
Pen plotter as a tool
to research
Alternative printing technique
Pen-plotter : the print (or drawing) becomes again a negotiation between pen and movement
Fonts designed as a recipe, not as outlines or shapes
A path for the pen to follow
Printing is an event : influenced by changing pen, pressure or speed
MetaFont as a tool
to question
Developed out of frustration with then contemporary typesetting
Where the designer draws the computer a skeleton to be followed by a digital pen = opens the full potential of the computer as a drawing tool
Allows the shape of the letter to become again a interplay between pen (shape) and movement
Allows the shape to be parameterized
Limited perhaps by Knuth's belief in a singular font designed by a master - one fixed, baked digital object
Variable?
Digital fonts more and more complex:
Predefined matrixes of pixels
Vector shapes
Contextual alternative characters or ligatures
OpenType Variable fonts
But all still, only in a pre-encoded fashion, deemed appropriate by its designer
Responding fonts shape
Computers, as algorithmic drawing tools, can be used in more interesting ways
Calculate the outlines in a more exciting fashion
Letting a font's shape respond to its environment
We think that the risk of results with a low typographic quality is largerly conter-balanced by the potentialities of opening up the process
http://git.constantvzw.org/?p=osp.foundry.belgica-belgika.git;a=blob_plain;f=documentation/sticker-on-mac-1600px.jpg;h=d37a4230e2158297774001071273868e46bcdf54;hb=HEAD
A call for stroke fonts
A font(-standard) where no longer the outline of a font is defined but it's gesture
Allowing every user or algorythm to influence the resulting shape
By changing a pen, a color or by making the shape respond to its context
Multiplicity of strokefonts as an alternative to the habit of more traditional fontdesign to define a single 'true' shape
Some experiments
Metahershey
UmeStroke
Metadin
Belgica-Belgika
Metafranquin
Metahoguet
Up pen down
Metahershey
Hershey fonts
During the Relearn summer school 2013, Gijs De Heij (OSP) and Simon Egli (Metapolator) converted the svg points coordinates of the Hershey fonts into Metafont files and switched the straigh connexions into curves.
![]( https://gitlab.constantvzw.org/osp/foundry.belgica-belgika/raw/master/documentation/plotter.jpg
![]( https://gitlab.constantvzw.org/osp/foundry.belgica-belgika/raw/master/documentation/meta-hershey-relearn.png
Ume Stroke
One of the many derivations of the Ume family we developped for the identity of the Balsamine theatre.
Metadin
Belgica-Belgika
Stroke font system based on voluntary primitives only : straight lines and arcs
No fixed drawing
osp.kitchen/foundry/belgica-belgika
Metafranquin
A attempt to produce lettering fonts based on Franquin comic author lettering
Criteria / axis wil include width, boldness, incline (x and y), contrast (x and y), perspective (x and y), roundness, tension of straight lines, element positions, openess and endings
Workshops, residency
Metahoguet
2 days workshop that took place in Brussels last week. Particpants are graphic design students freshly filling in Metapost lines. They drew together a multilayered alphabet playing with basic typographic variables, reflection variable, penpos experiments. → write.osp.kitchen/r/metahoguet.md
Download the font → http://osp.kitchen/workshop/metahoguet/tree/master/fonts/
Up pen down
As a serie of workshops in collaborations with the dancer Adva Zakaï. Up pen down brings together digital typography and choreography.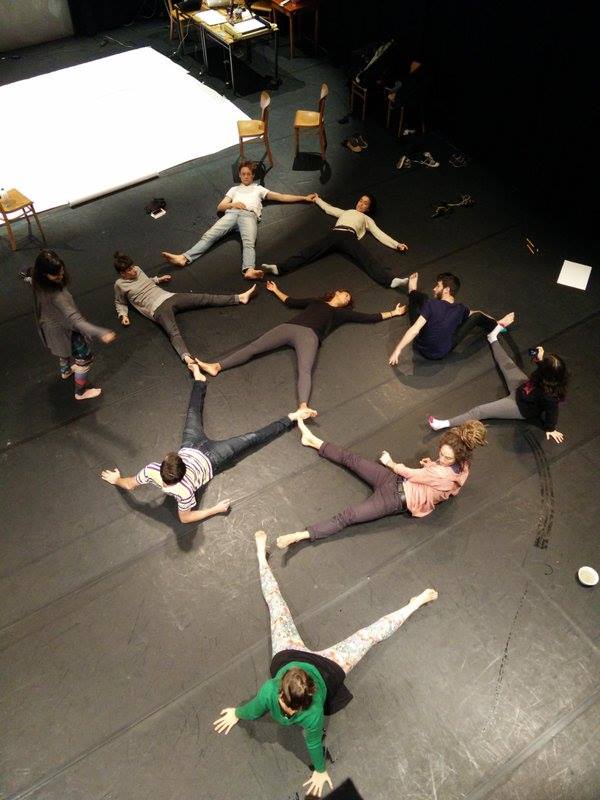 Back to strokes!
osp.kitchen